To empower Lions clubs, volunteers, and partners to improve health and well-being, strengthen communities, and support those in need through humanitarian services and grants that impact lives globally, and encourage peace and international understanding.
To be the global leader in community and humanitarian service.
We Serve.
Where There's a Need,
There's a Lion.
•Diabetes
•Vision
•Hunger
•Environment
•Childhood Cancer
Floresville Lions serve through monthly projects in 2022
The Floresville Lions Club stays busy every month with small and large service projects around Floresville. 
This October found the Lions decorating nursing home resident doors for fall; and November found them at the Floresville Community Market working with the area's children and getting them involved in Carnival for a Cause which helps feed those in need during the holidays. Free game tickets were given for canned goods brought or tickets could be purchased for a small fee. In just a few hours at the market, the Lions garnered 14 bags of canned goods that weighed about 175 pounds, along with $105 to be donated to the local food pantry.
Through Carnival for a Cause, the Lions brought the community together by inviting Floresville High Schools Texas Association of Future Educators, Foreign Exchange students and Sacred Heart students to help kids with painting and turning pumpkins into turkeys, face painting and running games. Tootsy the Clown twisted balloons into all sorts of things and gave her tips to the Lions Club, while new Judge-elect Jared Shaw pitched in and drove the kids around in the Lion's train. Thank you to all our volunteers. And thank you to HEB for sponsoring our many projects, especially the supplies for the kid's pumpkin turkey activity.  It was certainly a fun time for all! 
While the kids had fun, moms and dads started their Christmas shopping with the market vendors while listening to live music by local artist/singer Dan Fyffe and taking pictures with Fall photo props sponsored by our very own local business, Home on 3rd.
This past month, the Lions celebrated and recognized the Floresville ISD Students and Teacher of the month and gave a generous contribution to the Floresville High School Air Force JROTC program whose activities help shape cadets into productive, respectful citizens.
To finish the Holiday Season, the Lions will continue to work on their Care and Share project which collects canned goods for those in need; and during December we will add a winter clothing drive to assist those needing warm clothing for the cold months ahead . Canned goods and warm winter apparel may be dropped off at our drop boxes at the following three locations: The Floresville UPS Store, Top Hat Thriftique, or Jack's Cafe in Floresville. Warm winter apparel  needs are: coats, jackets, sweaters, scarves, gloves, beanies, or socks for any age.  All items should be new or gently used.  We also need children's shoes from birth to 6 years.  All items, whether food or apparel, may be dropped off at the three locations above or at the December 10th Floresville Community Market Lions tent, located at 1400 4th Street in downtown Floresville from 9 a.m.  -- 2 p.m. Join us December 10th at the Community Market Lions tent for our Make and Take Toy Kit Experience donated by the Brooks City Base Home Depot.  Free kits for the first 50 kids. Learn more about the Floresville Community Market: click here.
Throughout December, many Floresville area Nursing home residents will receive Christmas cards and blankets from the Floresville Lions Care and Share Program. If you would like to donate new blankets to our nursing home residents or would be interested in serving your community as a Lion, simply find a Lion in their gold vest or email us at info@FloresvilleLionsClub.org and ask us how you can join the fun!
We Serve – Aug. 2022 Eye Screenings
The Floresville Lions Club screened 88 sets of eyes (for free) at the Floresville Community Market's Aug. 2022 Back-to-School Bash and gave out LOTS of ice cream as every eye screened participant was treated with ice cream donated by one of the Lion's members.
Of the 88 screened, 39 were adults and 49 were children. Of the 49 children, 12 were referred for to have a complete eye exam. This free service saved the community $4,400!
They also loaded up on lots of donated school supplies with the combined help of the Peanut Festival court during that time with their School Supply drive to benefit local families in need!

Learn how to donate eyeglasses, click here.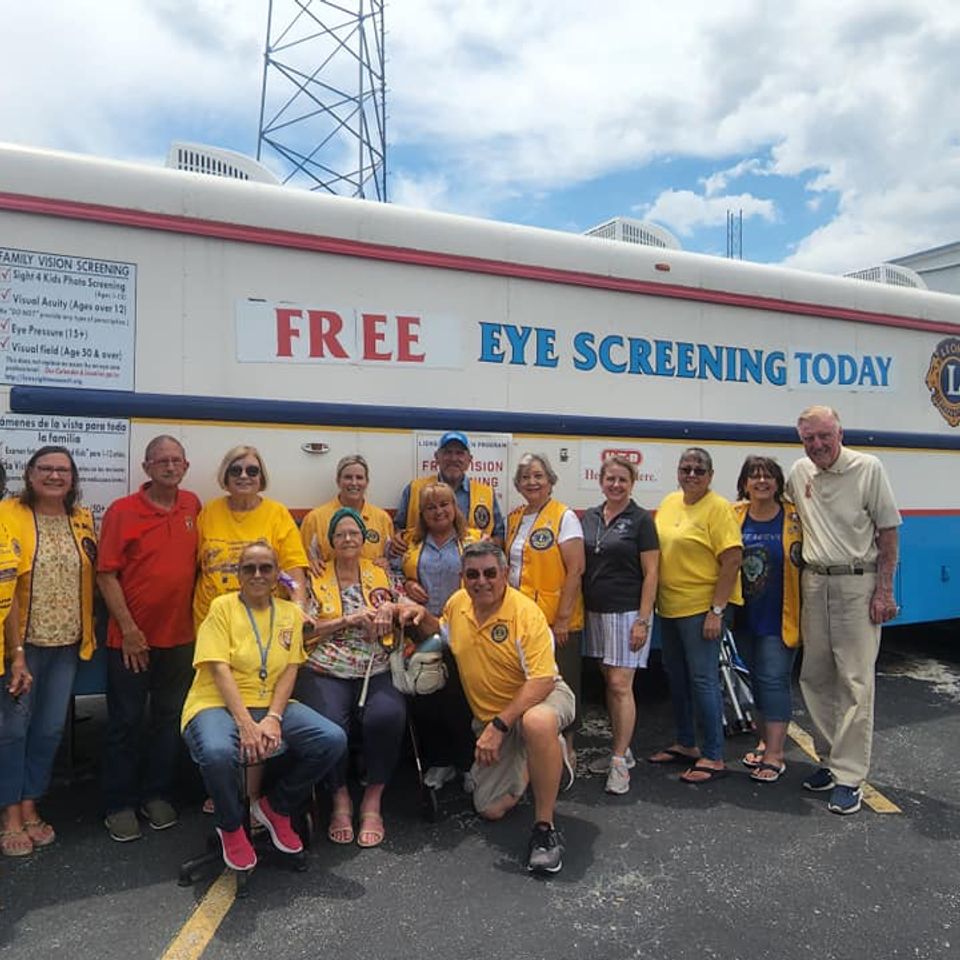 Back row standing: Marcia Tesauro, Nancy Hosek, Chris Lloyd, MESU manager & Past Lions district 2-A2 Governor,
Bonna Reed, Bonnie Sario, Gloria Sosa, Tony Weaver, Cecilia Meraz, Lauren Gaudlitz, Gloria Duron, Linna Selby, Paul Sack. Sitting 2nd row: Laura Freabe, LaJuana Newnam-Leus, Oscar Ahumada)
More Volunteers Doing More Community Work in More Places than Any Service Club Organization.
When it comes to meeting challenges, our response is simple: We serve. In 207 countries, in hospitals and senior centers, in regions battered by natural disaster, in schools and eyeglass recycling centers, Lions are doing community volunteer work, helping, leading, planning and supporting. Because we're local, we can serve the unique needs of the communities we live in. And because we're global, we can address challenges that go beyond borders.
We want everyone to see a better tomorrow. That's why we support sight programs and services including vision screenings, eye banks and eyeglass recycling. Provide eye care services to those at risk of losing their sight. And raise donations through campaigns like SightFirst and Campaign SightFirst II.
We believe everyone deserves a healthy life. From providing health programs that focus on hearing loss to supporting efforts to control and prevent diabetes, Lions volunteers are working to improve the health of children and adults around the world.
We empower the next generation. Whether it's providing youth volunteer opportunities and leadership experiences in a Leo club or sharing a message of peace through our Peace Poster contest, our youth programs invest in the future by reaching out to young people.
We serve local communities – and protect the planet. From performing hands-on community work and service projects to providing emergency assistance, our community and environment programs improve our communities – and protect the environment. 
Join our club today! Click the button below to start, or contact us for more information.